Colors Matter - Choosing the Best Color Scheme to Create a Relaxing Environment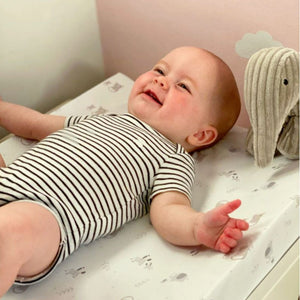 When creating your little one's room/nursery space you really want to create that calm, relaxing environment. In those early days at least your baby room will be used primarily for sleep so creating that calm and peaceful place for your little one to fall into that restful sleep is key. Whether you know it or not the bedroom colour scheme can have an impact on this as long gone are the days of pink for girls and blue for boys. The psychologists are now expressing the importance of choosing the right paint for your precious one's room. After digging deeper into research on this, here is what I have found.
Yellow = Yellows create that sunny warm feeling and so great to learn in but probably best as a accent for a child's bedroom.
Green= All around great colour for connecting us to nature and creating a nurturing environment inside the home.
Blue = Calm and peaceful in the softer hues so those work well for children's spaces and adults too!
Orange & Reds = These are energising and may be better in splashes as opposed to the main feature colour of your child's room.
Pink = Pink is calming and can help children to be more caring towards others. Softer hues here make for a great environment for your little one.
Softer and neutral tones with hints of greens, blues, pinks, even contemporary greys and whites are great choices for the baby room or child's bedroom.